Families are invited to join us for our holiday celebration shopping experience, with Mary Gloria Foundation, formally known as the Pan De Vida Foundation.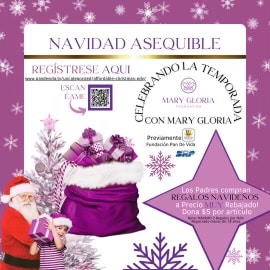 Welcome to our Affordable Christmas Event for Parents to purchase two toys for each of their children for a $5.00 donation each, along with, receiving added surprise gifts from our foundation to you, free of charge! Affordable Christmas is a Parents-Only Event. This will be a fun holiday shopping experience by Appointment-Only, No Walk Ins.
Please Note: Parents, One week prior to December 16th, 2023, our Affordable Christmas event, registered parents will receive an updated email of information with their own appointment time. Remember, to please come alone, this is a Parent-Only Event. See you at our holiday celebration shopping experience! Questions, please call 480-577-2069.
ESPANOL:
Bienvenido a nuestro asequible Evento de Navidad para padres, que pueden comprar dos juguetes para cada uno de sus hijos por una donación de $5.00 cada uno regalo, tambien, recibir regalos sorpresa adicionales de nuestra fundación para usted, de forma gratuita! La Navidad Asequible es un evento solo para padres. Esta será una experiencia de compras de vacaciones divertida por cita-solamente, No Walk-Ins.
Padres, una semana antes del 16 de Diciembre de 2023, nuestro evento de Navidad Asequible, los padres registrados recibirán un correo electrónico actualizado de información con su propia hora de cita. Recuerde, por favor venga solo, este es un evento solo para padres. ¡Nos vemos en nuestra experiencia de compras de Celebración Navideña! Preguntas, por favor llame, 480-577-2069. Gracias.
We welcome your donations to help support our program, please see our flyer below, call us at 480-577-2069, with your questions. We appreciate your effort to help us serve those in need during the holiday season!
Merry Christmas and Happy Holidays to you and yours!
Also Check out our other upcoming programs:
https://search.google.com/search-console/insights/u/0?utm_source=gws&utm_medium=onebox&utm_campaign=san&resource_id=https://pandevida.tv/